Walsall Academy Expedition to Everest Base Camp - PART ONE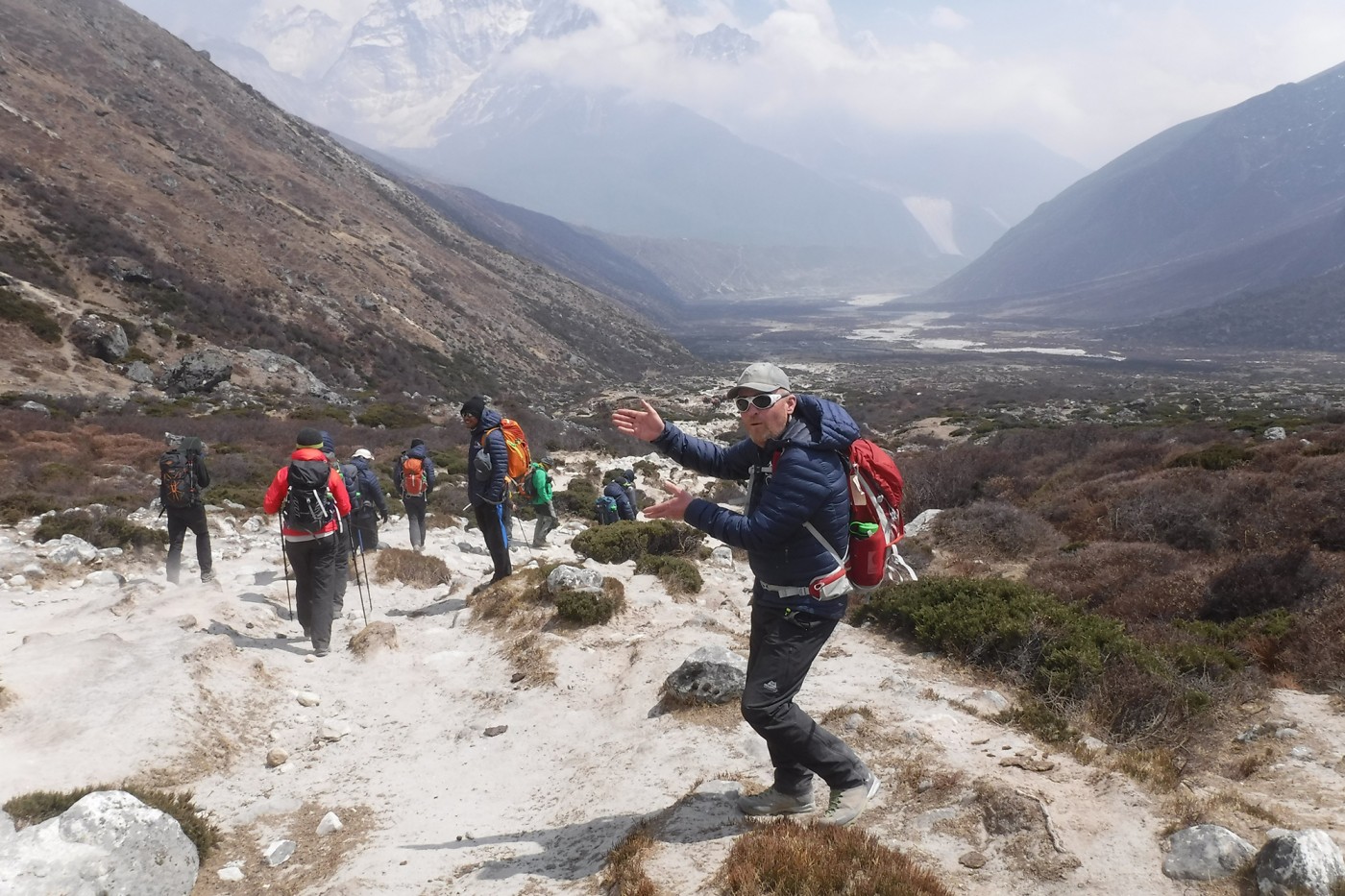 Read PART ONE of our special guest blog post by Jon Clarke, Shadow Headteacher at Walsall Academy, on their fantastic Everest Base Camp expedition.
The reasoning, the challenges, and the student learning experience...
Part 1
Planning and then managing a school visit to the vast majority of Britain's population fills them with a sense of horror. Luckily for young people, there are dedicated and hardworking teachers who believe in learning outside the classroom and the benefits it brings. When I talk to friends and fellow educationalists about the last 20 years of my life they tend to drop food, spit out drinks and they receive looks from partners with the non-verbal message of "don't even think about it". But I ask why?
The latest adventure that I planned, and then took part in, was to take a group to Everest Base Camp in Nepal at a height of 5436m. That's about the height that you would find an older jet airliner taking you on holiday. It is not, however, risky at all - it is risk managed and negated by effective planning and good group management. As you can imagine this is not my first expedition and not my first visit out with young people. In 2016 alone I spent 3 months on residential visits. Along with day trips to look at tourism in Derbyshire, I also spent time wild camping for four nights in the Lake District, skiing in New England, and I led an expedition from my school looking for rare wolves on the Sanetti plateau in Ethiopia.
The principals of planning all of these experiences are the same. Most importantly it is to find the correct provider and be clear on what you want out of your visit, what objectives you have, and what you think is negotiable and what is definitely not negotiable. Over the years I have used and stopped using numerous providers. Some of them have to be specialists who I can trust with my career and, in the case of the last visit, my life. I would not use the same provider for the ski trip as I did the expedition to Everest, but I was most grateful for the support from the ski trip company both financial and emotional.
So where do I get the initial idea from for a visit? They are mostly from a personal drive to enable young people today to explore our world as I did as a child, and as a Geographer. It is often that I am enhancing a curriculum, for example a Battlefield tour or a languages week in Germany or France, making it just come to life. With the larger expeditions it is a little more deep routed into making a positive contribution to our world. I was 14 in 1985 and when thinking about making a contribution to our world we think immediately to Ethiopia which I have now led two expeditions to. With the Everest Expedition, I was sat high up on Helvelyn in the Lake District drinking coffee with a friend who was explaining how he had taken a group from an independent school of both parents and students to Base Camp, and the hardships they'd faced but what they'd seen. This provoked me into thinking – well if they can do it, I have some inner city kids in Walsall who could do it as well.
The objective for the expedition became to support communities affected by the earthquake which caused so much damage in 2015. I contacted a specialist expeditions company whom I have used before, and had managed a group previously to the area. They also had the local guides and back up available which I would need. Gaining approval in my own school is not that difficult as I hold several mountaineering qualifications and the information pack I provided to the chair of governors, mostly deals with the safety, backup and services we could expect from the 3rd party provider. I also do not take "No" for an answer easily...
Part 2 coming soon!
Written by Jon Clarke-Shadow Headteacher at Walsall Academy-Winston Churchill Fellow and published author
Follow us on Twitter to read the next instalment