Walsall Academy Expedition to Everest Base Camp - PART TWO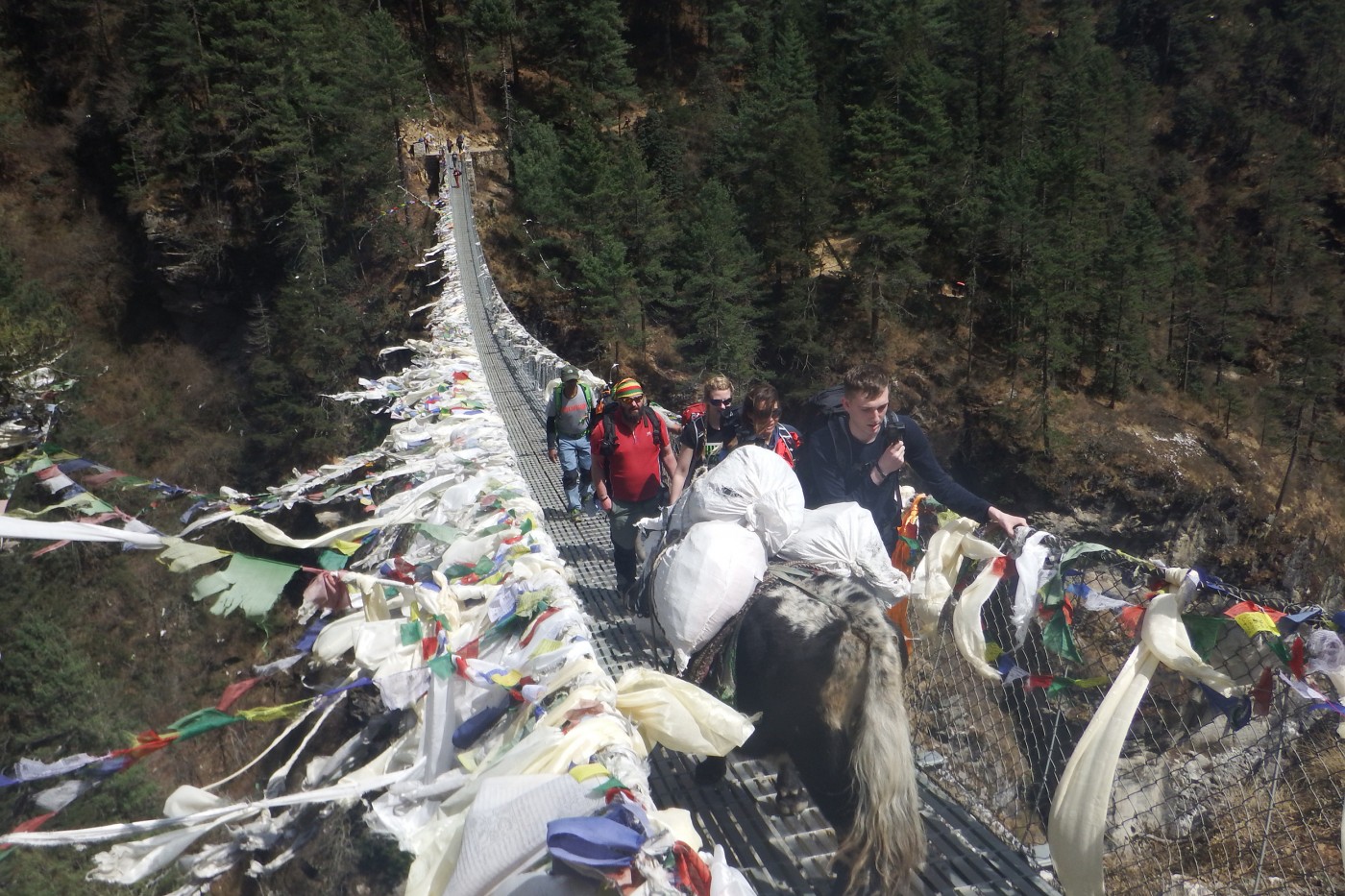 Read PART TWO of our special guest blog post by Jon Clarke, Shadow Headteacher at Walsall Academy, on their fantastic Everest Base Camp expedition.
The reasoning, the challenges, and the student learning experience...
Part 2
This was 2 years before we set a boot in Nepal – as I have already stated, it takes time preparation and training. So money, 'Yes it costs a lot to go to Nepal'. I managed to secure some funding from a certain schools specialist travel company whom we use for all our Battlefields tours, languages and history visits as well as our ski trip. It was great that they wanted to support as they believe in all types of adventures for young people. I managed to get sponsorship from Sherpa clothing for our specialist kit, owned by a Nepali Sherpa and based in Kathamandu. They provided jackets and hats, but importantly kick started the team's discussions about ethics and the contribution to be made to Nepal. Two years flew by with fund raising, training weekends and a pack of paperwork which could sink a battleship, but we were ready to go on April 1st 2017.
I am told by parents and students that the teams I have taken on expedition do not realise that they are really on an expedition until they walk through the doors of the airport in their destination country. This was clearly evident in Nepal an hour after clearing immigration. After gaining more stamps than Royal Mail have ever produced, and collecting our 10kg bags (which is not a lot – try it), the doors opened onto a dusty road at Kathmandu airport and there, sat in the bin, was a monkey with a sandwich in one hand and a cake in the other, full take away service! The group was then bombarded with people wanting to carry their bags and the smell, dust and heat hit them. Welcome to immersive learning.
Lukhla airstrip in a thunderstorm: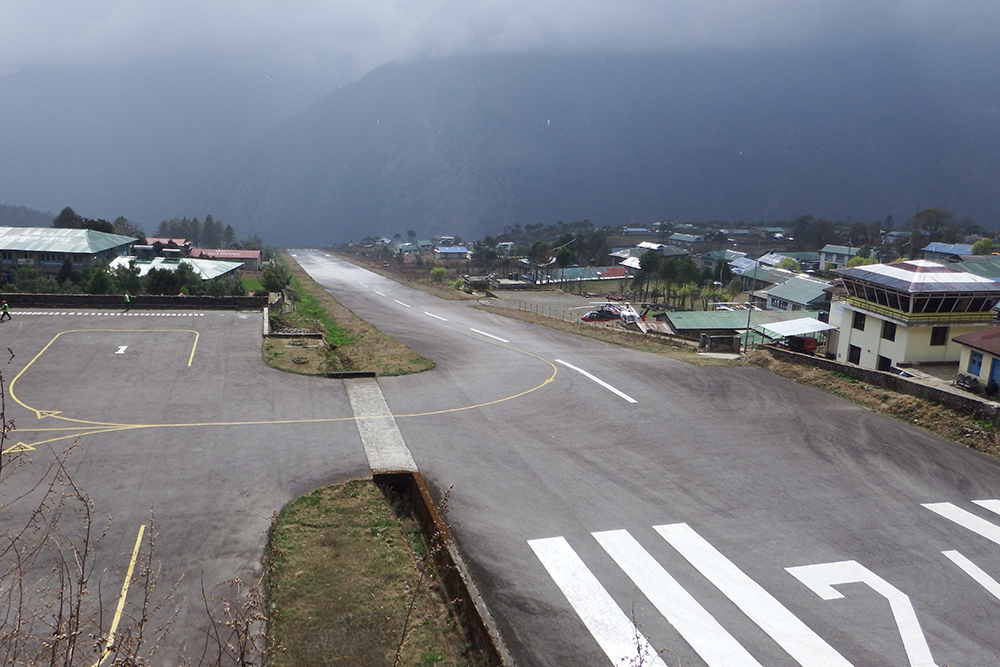 Our task was to support the students in managing their own team, not to just run a tour. They managed the money, negotiated with local Sherpas, conducted daily medical checks and organised where and when we ate. The key point here is that it was the student's expedition, not mine. The leader team facilitated the students so that they gained all of the vital life skills out of the expedition. In future interviews with possible employers, they can then explain their personal role and learning. Life on expedition gets into a rhythm and when the team all have the beat it goes fantastically well, the expedition to Everest was a great example of this. When they don't get the beat, you have a lot of work to do. After delays and flying on what can only be described as a transit van with wings, our journey took us through a thunderstorm to land on the fourth most dangerous airstrip in the world in Lukhla. Our plan was to walk for up to 7 hours a day, plus have acclimatisation days with small treks on them. We were not camping, as now very few travellers to the Khumbu region do – they stay in tea houses which are family-run small hotels with basic facilities (the less said about them the better).
An acclimatisation walk to Everest View Hotel in Namche: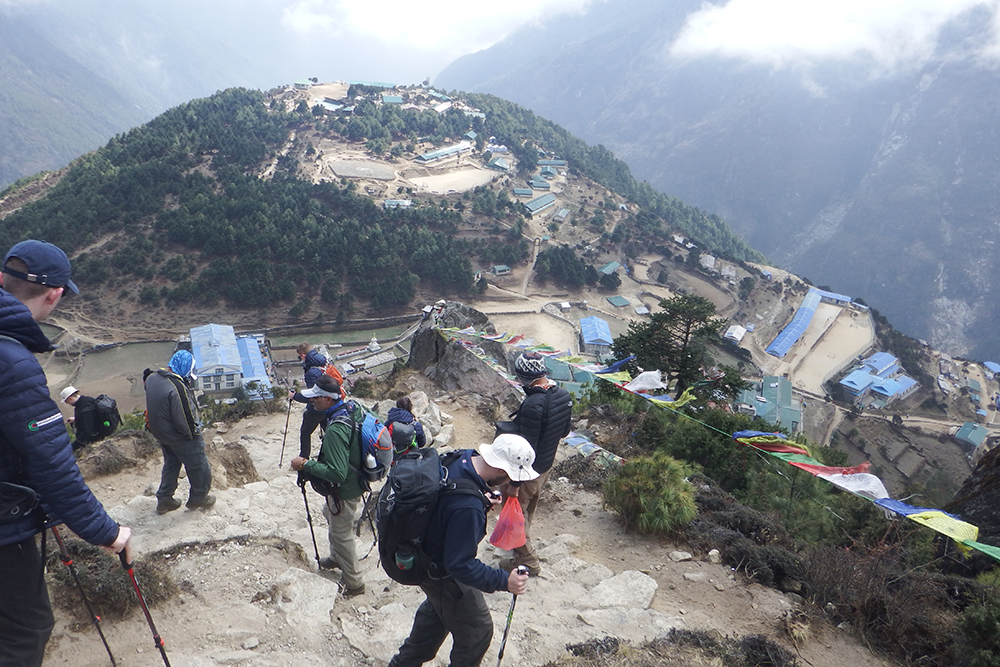 From the second day onwards altitude was something we had to deal with. When on day three at 3450m one of the students starts to remove all his upper clothing and tells you that someone is hitting his head with a hammer, you know that you are high and the only cure is to drop down. Luckily he and we acclimatised and our profile was slow and steady – everyone had learnt the Nepali for slowly which is "bistari". It amazed us every day that our porters would pick up what to them was light load of 30kg, put on a head strap, and march off to the next village. I tried one pack and it felt very heavy, but when we spotted a man on a steep track later that day carrying a washing machine on his back, you knew that our porters had a sensible load. There are no roads to Base Camp, just tracks, and everything is carried either by man or beast across ravines on narrow bridges and high passes which are rough and dusty. Meeting a yak train halfway across a rope bridge is scary the first time, but you become accustomed to it and try not to do it as much as possible!
Part 3 coming soon
Written by Jon Clarke-Shadow Headteacher at Walsall Academy-Winston Churchill Fellow and published author
Follow us on Twitter for the final instalment!
Ravine rope bridge: