Select Team Spotlight on Sicily School Trips
We like the Select Team to be as knowledgeable as possible about all our destinations so that we can give the best advice and personalised service to our school trip party leaders. Some members of the Select team recently travelled to Sicily to experience the fantastic excursions on offer. Here's an overview of the top visits and tips for school groups from Sales Co-ordinator Lucy, and Travel Advisor Ann:
Lucy:
Alcantara Gorges was a source of wonder. With its basalt columns, river, beach and even waterfalls along the pathways, it was a wonderful place to visit. You can even visit a botanical garden for an extra cost. You are shown a sort video detailing how the Gorges were formed from a lava flow from Etna rapidly cooling to form the unique rock formations around you. You can walk through an information hall and read some boards detailing the flora and fauna of the area as well as information about the various volcanic rock formations around the valley.
The small town of Taormina was beautiful and showed the difference in architecture between Greek, Norman and Arabic influences. From Norman Gothic windows to Baroque styles and Arab accents, there was plenty to see. We walked the Corso Umberto which had some wonderful little shops and incredibly narrow side streets to explore. And the views out to sea were stunning as you are up high on the mountainside.
The wonderful volcanic island of Lipari, which you have to get to by a small ferry, was stunning. With the boat taking you around rock formations (sea stacks, caves, rock pools and black sand beaches) and the crew explaining what you are seeing, to the stunning town itself where you can buy Sicilian street food and ice creams, all in glorious sunshine. Then on to Vulcano the smaller island of the two with is thermal beach, black sand beach and also a sulphur mud bath should you wish to bathe in it. A fantastic opportunity to relax and take in the stunning views and see people hiking up to the crater where you can see steam vents still active. A hot bed of geothermal activity where you can see the oxidisation of lava stone and see the yellow sulphur rock all around you.
Mount Etna was a hot bed of stunning views and a chance to see first-hand how volcanoes erupt and the lava flows. With the last 2002 eruption there is chance to see "fresh" lava flow (now solidified lava stone). With opportunity to see more than one crater the physical geography of the area is overwhelming. When driving up to 1900m you pass through little mountainside towns, shops and communities. We visited Oro D'Etna where you can buy wonderful honeys, olives, pesto, olive oils and wine amongst other things. All this followed a short introduction from one of the staff detailing how they make honey. This would be extra for groups to see, but I highly recommend it!
Tips for your trip:
Warm Coat and Gloves for Mount Etna – it gets cold up the top! Although you can rent jackets if going to the very top, it is still cold half way up too!
ATM's don't always give you an option for English language, so best to take some Euros in cash (not all places take card payments).
For cheap lunches find little Sicilian fast food/deli places - arancini balls, scacciata, calzones, cannoli and mini pizzas are a winner.
Ann:
In the 4 short days we were in Sicily we only touched the surface of what this beautiful Island has to offer, but it is amazing how much you can do and see. An understanding of the geography and the impact Mount Etna and the smaller volcanic Islands have had on the landscape is clear to see, walking along the spectacular Alcantara gorge, formed by Etna, carved out of rock being just one of the must do visits!
Top Tip: For school groups the simple video and information boards at the visitor centre makes it easy to understand how this all came about is worth a visit.
The sun shone the day we went to the Islands of Lapari and Vulcano. On the way the boat passing by stunning rock formations and grottos showing off more wonders this area has to offer. A treat for all geographers!
Top Tip: have your camera ready at all times!
The towns are beautiful and steeped in history, clearly displaying the many influences of the many peoples that have inhabited this Island from the Greeks to the Normans and beyond.
Top tip: stop and buy a delicious ice cream in any of the towns you visit and sit and enjoy the sights sounds around you.
Best bits..too many to mention but must dos. ...Eat Pizza, pasta, ice cream and enjoy!
You can view further information and an example itinerary here >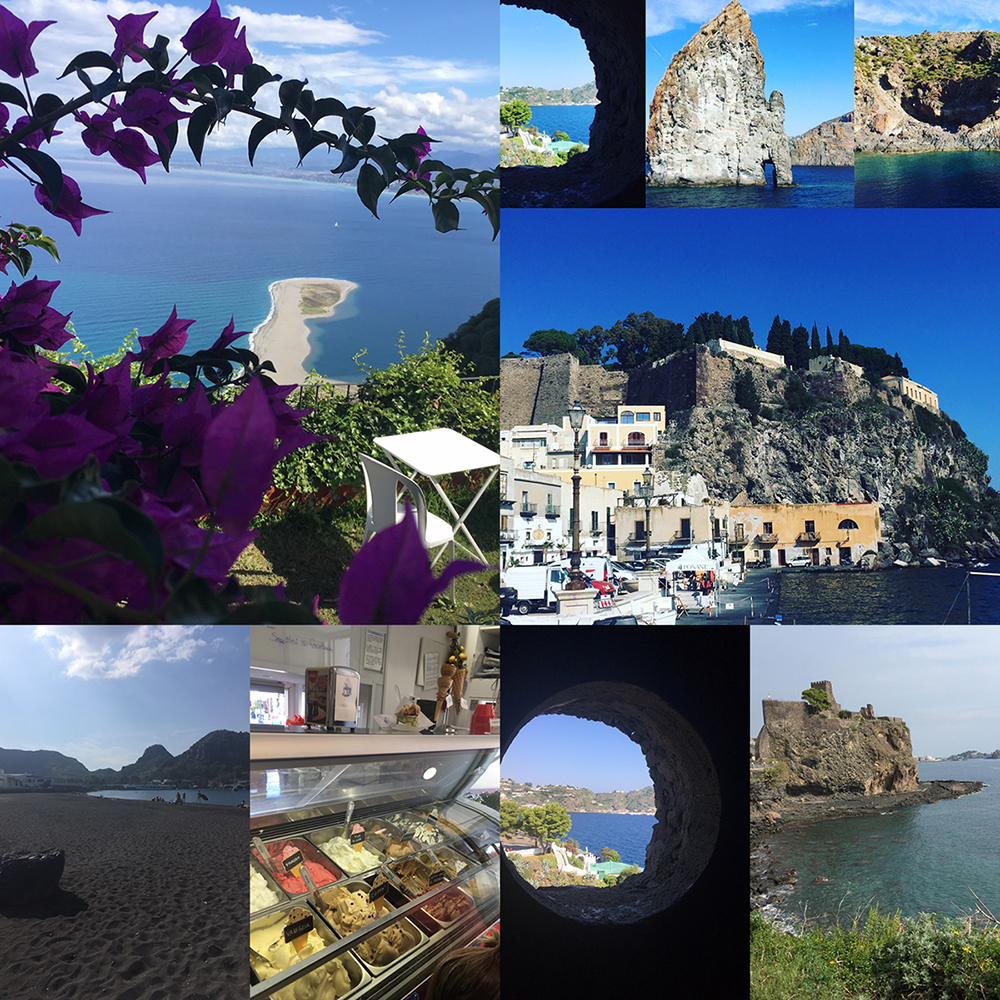 Back to blog